Hi friends! I can't believe it has been a whole week since I have said hello to you guys!
A week has gone which means it is 1 week closer to the wedding - I think I am subconsciously stressing my brains out. Last night I dreamt that the only food we served at our wedding was watermelon...
Yup, that's me... I am the weirdo that has nightmares about watermelons.
Speaking of food - lets get onto the topic for the day... and that is what I ate on this wonderful Wednesday!
Breaking my fast on wholegrain muffin topped with hummus, spinach and 1 Egg/Egg White scramble with Salsa.
Yummy 'jaffa' cottage cheese snack - the combo of 1/2 cup cottage cheese, cacao powder and orange flavoured stevia just makes my darn day! (Individual items because mixed up it kinda looks funky...)
Boring but healthy lunch of mixed veggies, spinach, chicken and eggplant/tomato chutney.
Onto my new love... move out of the way Josh. I am absolutely besotted by these little suckers.
Coffee Beans + Dark Chocolate = Heaven!
A little bit of a seafood feast for dinner - Moreton Bay bugs, Salt & Pepper Calamari and Wombok Asian Salad. Fresh and Delicious and all made by my lovely fiance <3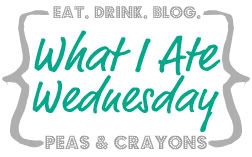 Happy WIAW!