First off, welcome to this weeks WIAW. For anyone who want to learn more or to join in the paaartay head over to visit
Jenn at Peas and Crayons
.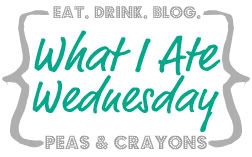 If you guys remember, I may have mentioned a few times that I am trying to increase my protein intake as part of some guidance I recieved from a nutritionist.
To sum it up, it was a pretty strict eating plan where I ate a lot of protein (meat, eggs, protein shakes) and no carbs (apart from green vegetables) or dairy. It was very restrictive and after 3-4 weeks I was noticing I was having insane cravings for really bad foods AKA maccas drive-through (eeek not good).
I decided that this was my body telling me that it needed more variety, I was so bored of meat and veg dinners and when I get home from a crappy day at work I love to relax and make a really amazing, delicious and healthy evening meal.
So I have eased up on my strict eating plan, I still eat pretty much the same during the day as it is pretty quick and convenient for breakfast and work but after work I arrive home and look forward to making something yum for din dins, hopefully a few more recipes will be popping up over the next few weeks!
Woops I forgot to photograph my snacky snacks throughout the day - don't worry they weren't that exciting.
I hope everyone is having a fabulous week - full of delicious food! To all the US peeps out there, Happy Memorial Weekend, loving the blog posts I have been reading over the weekend about your food and celebrations :)