I haven't done a WIAW at all this month - Being super busy during the week makes it hard for me to remember to take pictures and then to have time to post!
So for this WIAW I decided to share my eats from Saturday. If you want to learn more about WIAW then visit Jenn over at
Peas and Crayons
. Hope you join the party :)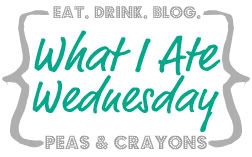 Scrambled eggs with veggies continues to be my favourite and easiest breakfast to make.
Baby spinach, mushrooms, tomato and chives helped to start my day and I found some sliced avocado too!

I love this picture of my lunch - I think I might play with my food too much!
I have been making homemade turkey patties and they are sooo good.
I make a bunch on the weekend and freeze them ready to thaw for lunches through the week.
Dinner was super easy to make but still yummo.
I marinated some chicken thighs in Portuguese marinade and served with sauteed sugar snap beans, halved asparagus and sliced capsicum.
I am still trying to increase my protein intake (I have started weight training too!)
I am trying a few protein shakes at the moment - Let me just say Lean Dessert by BSN (pictured right) is delicious!
It tastes just like chocolate pudding.
Well this is my super healthy WIAW post - I have been trying to eat like this most days but sometimes ice cream or chocolate might sneak in.