Everything has been a whirlwind since the wedding day. My eating has been going up and down, healthy food, not so healthy food, too much food and too many skipped meals. Now that I am back from honeymoon (unfortunately) and back to work, I feel like there is a little more routine to my day and I feel like my eating is getting back to normal.
Before I start breakfast or a workout in the morning I have been adding Define8 + Apple Cider Vinegar (ACV) cocktail to my day. Define8 is a energy booster/pre-workout supplement which is awesome to get me through a tough morning workout and to kick start my day. I have also been trying to take a bit of ACV in the morning to receive the myriad of
health benefits
associated with it.
Breakfast this morning was pretty similar to most of my breakfasts, an english muffin with egg + egg whites along with some grilled asparagus.
My new husband also made me a delicious and cute cappuccino to go along with breakfast.
These delicious little eggs have been featuring predominantly in my diet this week before Easter. It is quite difficult to resist when they are freely offered at work!
Lunch was quite healthy and a little bit boring. A steam pack of peas, beans and corn along with some Nando's marinated chicken. If you can pick up any of these Nando's cooking sauces I highly recommend them, they are delicious :)
Dinner doesn't look too exciting either but it was so yum! I topped some chicken thighs with sundried tomato pesto & goats cheese and roasted it in the oven. I served the chicken alongside roasted potato and a tasty mediterranean style salad.
And that is about all I have to share with you today, please be sure to check out Jen's blog and join in the WIAW party.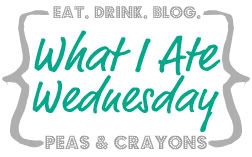 Also check back here in the next few days for the start of my wedding series of posts!